Welcome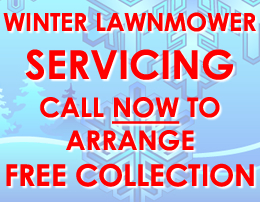 Rotherham's specialists in lawnmower and ride on tractor repairs and servicing.
Our mower technicians have over 30 years of experience servicing and fixing both lawnmowers and ride-on tractors. We have access to the full range of spares necessary to maintain your mower to it's best performance.
If your mower is either not performing like it did when you bought it or is not working at all, we guarantee to be able to get it back working 100% and in double quick time - in time for the next cut of your lawn.
All you need to do is call us on 0800 542 0976 to arrange for us to collect your mower.
Collection and delivery back to you of your mower or ride-on tractor is FREE OF CHARGE (discretionary).
Our workshop services and repairs commercial and domestic mowers and ride-on mowers.
Sports club lawnmower repairs and servicing are our speciality:
• Cricket Clubs
• Football Clubs
• Rugby Clubs
• Bowling Greens
• Golf Clubs
So,either call us FREE on 0800 542 0976 or email info@lawnmowersrotherham.co.uk and we will arrange a convenient time to collect your mower for repair or servicing.
We look forward to hearing fro you soon!